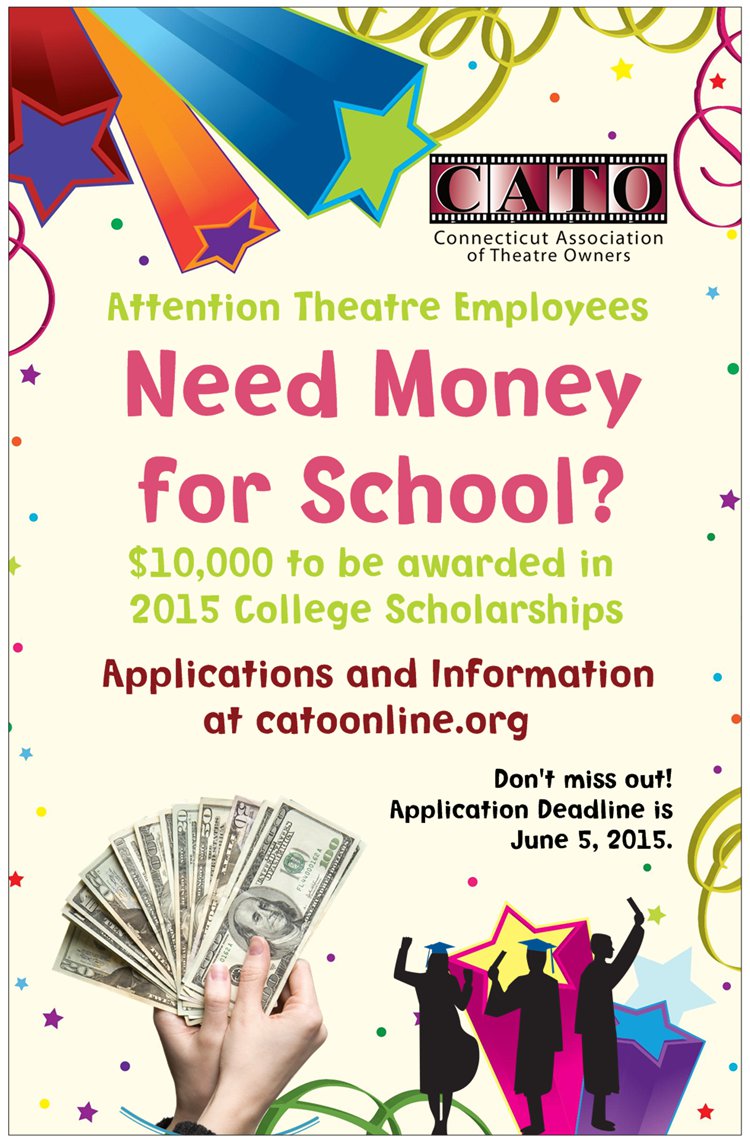 ELIGIBILITY
To apply for a CATO Scholarship, an employee must be a senior in high school, a matriculated college undergraduate or a trade school student. In order to be eligible one must be employed at least six months at a CATO member theatre in the State of Connecticut. Students who work seasonally are eligible.

Applicant must be a resident of the State of Connecticut.
HOW TO APPLY
Complete Application Form. Mail with supporting papers to:
Connecticut Association of Theatre Owners
C/O Doug Murdoch
10807 Falls Road #1150
Brooklandville, MD 21022-1150
Applications must be received by Friday, June 5, 2015.
Scholarship winners will be announced in July 2015.
ADDITIONAL INFORMATION
Up to seven scholarships may be awarded for a total of $10,000; three of $2000 each and four of $1,000 each. Scholarships will be awarded upon proof of matriculation at the school of choice and checks will be made out to the institution in the student's name.


A committee of CATO members and a local educator will choose the award recipients on the basis of theatre employment, school records and civic participation.


The following information must be included:

The CATO application completely filled out.
A letter of work history from your Theatre Manager.
You school transcript, SAT scores, grade point average, and class rank.
A personal profile letter which explains your goals, with any reasons why you need or feel you deserve a CATO Scholarship.



Scholarship Winners must enroll in a college, university, or trade school for the full term, and must meet all qualifications for the school of their choice. If a winner does not attend school for the fall term of 2015, the award will go to the next highest scoring applicant.


These scholarships are not affected by any other financial aid received by applicant.